Genre: Life
Genre: Running
At odds with the world and 21km:
🎶 I'm trapped inside of my own mind, afraid to open my eyes cause of what I'd find and I don't wanna live like this anymore 🎶


- Lifehouse

I never expected recovery to be so tough, and in so many ways the journey to 21km paralleled my journey to my diagnosis. I had received a lifestyle changing injury with the unstable shoulder. The doctor (hospital) diagnosed the shoulder as a grade 1 separation due to the lack of pain that I displayed. Grade 1 is the lowest grade possible meaning that the recovery would just consist of rest and physiotherapy. From the moment of the diagnosis I was at odds with this as I believed the injury was at least a grade 3 separation requiring surgery.
In regards to my mental health, I had previously been given plenty of diagnosis's: OCD, depression, anxiety, and agoraphobia were some of them. With all the training, psychotherapy, and medication, I still felt at odds with diagnosis's because they just didn't seem to fit right.

Trying to get my running back in order was proving difficult, the damage done from the overuse injuries held me back. Each time I tried to get into a routine I received another physical set back. The length of my runs were also getting shorter as my body couldn't handle anything more than 10km.
The physiotherapist worked hard on my shoulder and I started to question more and more the inability I had to be successful in family and work. It felt like I was going backwards. 2012 dragged on as I went in circles, stuck in the cycle of a broken body and mind. Running was losing its priority, and I became addicted to mobile phone games. I disappeared behind the small screen trying to escape the realities of my life, creating instead a new life within the games. My favourite drug of choice (Serotonin) was no longer being regularly consumed so I started drinking to get my fix. I was also under pressure with my work contract nearing an end and my boss was going to have to make a decision on my employment.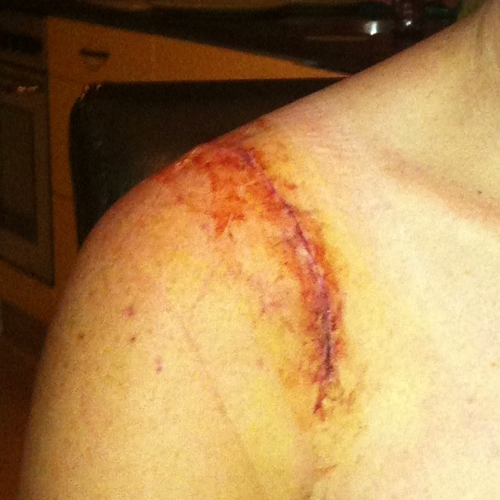 The physiotherapist finally gave up trying to fix my shoulder, and I was sent to the surgeon. This brought hope, and at the same time my body had started to allow me to get in more kilometres running. Hope was starting to build again, and after 13 months of discomfort I finally went under the knife. The surgery proved what I believed from the beginning, I had a grade 3 separation only displaying less pain symptoms than the norm. The surgery also revealed a problem, being unconscious meant not being online to play games. I was so addicted that within 30 minutes of waking I had the mobile in my hands playing again. The hospital physiotherapist caught me and was astonished at the fact I could use the operated arm. He proceeded to do several tests and explained that this was not normal; I knew then that my brain was out of touch with my body. Having been correct about my shoulder, I made the decision to get further psychological tests to understand why I felt so different to the rest of society. I approached my wife and explained my suspicions, that I felt I was autistic; she flatly rejected the idea but said she would support me in my decision to get tested.

The results were in. We walked out of the meeting having just been informed of the outcome of the tests, when when my wife turned and punched me in the arm. "Sucker," she said, then gave me a hug. The professionals were absolutely confident in their diagnosis; I am autistic (Aspergers). For us, a lot changed on that day. I could now run a half marathon, but as with every half, I was only halfway through the journey.
RedBeardRunning 🏃
Back to top ⇧